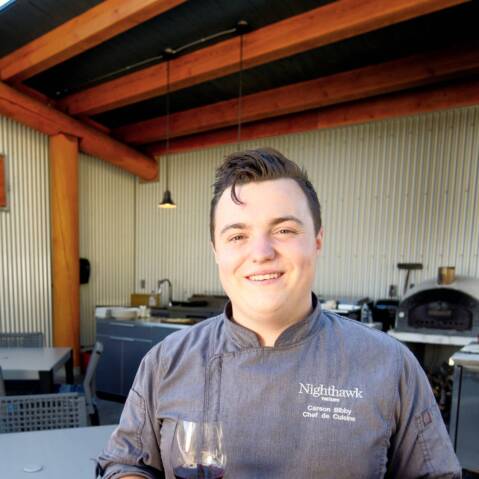 Carson
Chef de Cuisine
Carson is a graduate of the Culinary Arts program at Okanagan College, and while he was attending school he spent two seasons at Liquidity Bistro (listed in the Top 100 restaurants in Canada) working under Chef Rob Walker.
During this time, he assisted competing chefs in the Canadian Culinary Championships held in Kelowna. He was promptly hired as Chef de' Partie by Marc Lepine (Gold Medalist and Canada's most innovative Chef in 2018) and spent a year in Ottawa working at the famed restaurant Atelier. Carson later completed a stage' at the Savoy in London, and spent a working holiday travelling throughout Italy, before becoming Chef at Bella Italia in Sun Peaks.
After two seasons in Sun Peaks he returned home to Okanagan Falls, to create an amazing culinary experience and personal level of elevated service that Nighthawk Vineyards has become known for.   
Phone +1(250) 497-8874
Email [email protected]
have a question?
Get in Touch